Female Nickel Plated N Type RF Connector 4 Holes Flanges Mount
N type connectors are threaded coupling coaxial connectors with good anti-vibration capability and electrical characteristics and upto 11 GHz typical frequency range. Our frequency range can be up to 18 GHz. They are applicable to different types of RF cables and commonly adopted in aviation, aerospace, radar, microwave and digital communications, test and measurement instrument etc.
We can also customize various type-N connectors and adapters as per customers' different requirement. No matter what you need is straight or right angle, flange mount or bulkhead mount.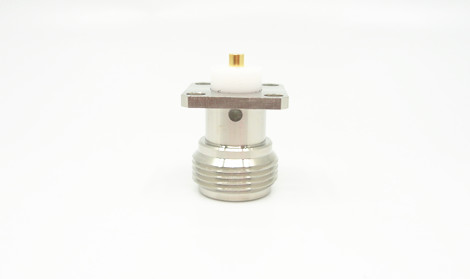 Specification
Electrical Characteristics

Impedance

50Ω

Frequency Range

DC~11GHz(Max.18GHz)

Rated Voltage

1000VRMS*(Max.Sea Level)

Dielectrics Voltage-resistance

1500VRMS*(Max.Sea Level)

Insulation Resistance

≥500MΩ

Center Resistance

Outer conductor

≤1.5mΩ

Center conductor

≤0.5mΩ

VSWR

≤1.3

Material & Mechanical Characteristics

Center Conductor

Male

Brass, Gold plated

Female

Phosphor Bronze, Gold plated

Resilient Contact

Phosphor Bronze

Nickel Plated Passivated

Shell / Housing

Brass Stainless steel

Gold plated Passivation

Cable Clamp

Brass

Nickel Plated

Insulator

PTFE

Gasket

Silicone Rubber

Durability

500 Cycles