J30J Series 51 Pin MDM Female Miniaturized Rectangular Connector with Communication Cables
Product Description:
This series product is equivalent to the American MDM series products, etc, the shell is aluminum alloy, contact space is 1.27mm, apply to the wire core section area is 0.1-0.15mm squared. This product performance comply with GJB2446A ( general specification for micro-miniature polarized shell rectangular electrical connectors),it is equivalent MIL-DTL-83513, it is divided to common(shell) and improved(shell) . With the small install space, light weight , reliable connect, excellent electromagnetic scree, good earthquake resistance, etc. It is widely used in small space required electronic equipment and apparatus.
Contact Arrangements
(Face View of Pin insert)
Outer Dimension Drawing: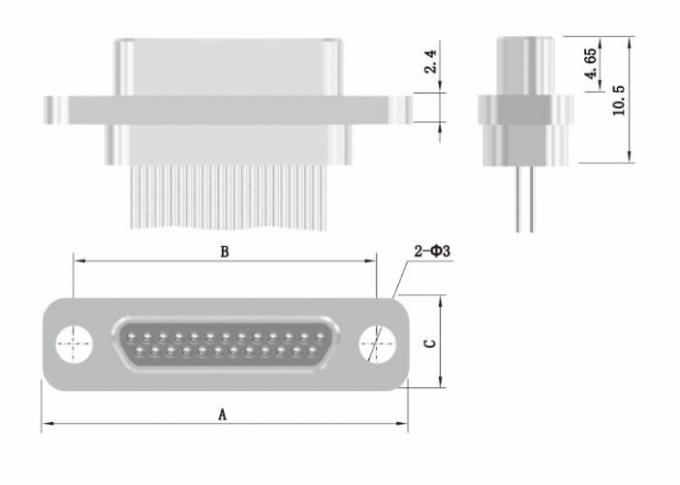 | | | | |
| --- | --- | --- | --- |
| Model No. | A | B | C |
| J30J-9TJ | 19.6 | 14.35 | 7.6 |
| J30J-15TJ | 23.5 | 18.2 | 7.6 |
| J30J-21TJ | 27.4 | 22 | 7.6 |
| J30J-25TJ | 29.8 | 24.5 | 7.6 |
| J30J-27TJ | 33.6 | 27.3 | 7.6 |
| J30J-33TJ | 37.4 | 32.2 | 7.6 |
| J30J-51TJ | 36.3 | 30.86 | 8.7 |
| J30J-100TJ | 54.8 | 45.72 | 9.7 |
Specification:
Voltage Rating: 300V
Current Rating: 3A
Insulation Resistance: ≥ 5000 MΩ
Dielectric Withstand Voltage: 800V
Durability: 500 cycles
Environmental Temperature: -55℃ ~ + 125℃
Vibration: 10Hz~ 2000Hz 196m/S²
Total acceleration RMS: 23.1G
Impact: 735m/S²
Applications:
* Avionics, radars
* Missiles and guidance systems
* Telecommunication systems
* Navigation systems
* Research centres